Frances Josephine McFadin
(Frances Josephine Freeman)
Born: January 8, 1912, Bluff Dale, Erath County, Texas
Died: June 11, 2000, Mineral Wells, Parker County, Texas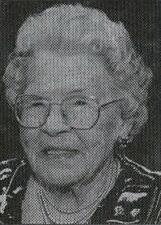 The following is the obituary for my Grand-Aunt, "Aunt Jo" McFadin, who passed away Sunday morning at the age of 88. She was the oldest living Freeman descendant in our branch. Aunt Jo was my Grandfather Wallace H. Freeman's sister.
She was born Frances Josephine Freeman, on January 8, 1912, in Bluff Dale, Texas, a small town in Erath County in North Central Texas. She was the granddaughter of Wesley Newell Freeman and Julia Emma Gordon AND Henry Taylor Hall and Harriet Eliza Holt. She had twin sons John and Joe, of which John had twin sons also Scott and Mark.
Aunt Jo never used the name Frances. She preferred "Jo", "Miss Mac", or "Nanny". She once told me, "I've never been a Frances." Aunt Jo was the daughter of Olin Knight Freeman and Katherine Hall.
Bluff Dale, where she was born, was in part founded by her grandfather Wesley Newell Freeman.He was a Civil War Commander, Marshal of Americus Georgia after the war, and the first Postmaster of Bluff Dale, Texas, the town he helped name.
Aunt Jo was a loving mother, wife, and friend to all who knew her. She was fun to be with. She lived in Smithfield, Tarrant County, Texas and Birdville, Texas, a good part of her life. In later life she lived at Possum Kingdom Lake, about 30 miles from Mineral Wells in Central Texas. She and John would have celebrated their 54th anniversary on June 19.
--------------------------------------------------------------------------------
OBIT from: Fort Worth Star Telegram, Monday Morning, June 12, 2000
Frances Jo McFadin
--------------------------------------------------------------------------------
HURST -- Frances Jo McFadin, 88, a retired Birdville School Teacher, died Sunday, June 11, 2000, in Mineral Wells. Funeral: 1:30 p.m. Tuesday, at the Smithfield United Methodist Church. Burial: Smithfield Cemetery. Visitation: 6 to 8 p.m. Monday at Lucas Funeral Home.
Frances McFadin was born Jan. 8, 1912, in Bluff Dale. She retired from Birdville Independent School District after 24 years. She was a resident of Possum Kingdom Lake and a life-long member of Smithfield United Methodist Church. She was a loving wife, mother and grandmother. She was loved and will be missed by all.
Survivors: Husband of 54 years, John R. McFadin; sons, Joe A. McFadin and his wife, Rosemary of Colleyville, John O. McFadin and his wife, Janna of Bedford; and six grandchildren, Scott, Mark, Lori, Brianna, Brittany and Brendan.
Lucas Funeral Home
1321 Pipeline Road
Hurst, Texas - (817) 284-7271
Aunt Jo's Freeman Ancestry:

Gabriel Freeman 1770-1834
+Lucy Freeman 1774-1826
....Beverly Allen Freeman 1806-1855
....+Mary Ann Reynolds Murray 1812-1879
........Wesley Newell Freeman 1832-1891
........+(2)Julia Emma Gordon 1845-1915
............Olin Knight Freeman 1885-1940
............+Katherine Hall 1887-1957
................Frances Josephine Freeman 1912-2000
................+John Robert McFaden 1924-Living