Clyde Newell Freeman, Jr.
A short biography authored by his son Clyde III

Clyde Newell Freeman, Jr.
Dec 6 1920 - June 28 2005


Phyllis June Watson Freeman
Living
Clyde and Phyllis married in February 1942
Foreward from Alan Freeman (webmaster): I met Clyde Jr in about 1999 via the telephone. He had been researching our FREEMAN family genealogy for over thirty years. He had written biography papers on most of our paternal grandparents. He was generous and shared his knowledge and work with me. He and I spoke many times after that and compared notes and adventures. I took the liberty to record many of those phone conversations, because he knew so much I couldn't write fast enough to keep up.
Clyde was thorough and methodical with his research, probably much like the care he gave his accounting customers. Unless he knew something to be fact, it didn't go into the record. If it went into the record, he documented the source. Those two points should be the GOLDEN RULES of genealogy. He practiced it.
Once when I ask him "why at 82 he hadn't retired," he said he heard that retiring brought on more work and he had enough without instigating more! If you knew Clyde, you knew that to be true. He never let up. I will always treasure the kind generousity of this man whom I never got to meet in person but yet I felt I knew. I can tell that his older son whom authored the following biography is carrying on this wonderful legacy in personality, character, and duties. May God's love and peace be with Clyde Jr., for I am sure our Heaverly Father is pleased. Like it's been said, it's the "DASH" that makes the man; it's what happens between those two dates on his tombstone: Dec 12 1920 - June 28 2005 that really matter.
Clyde Newell Freeman, Jr.
His father, Clyde Newell Freeman, was a professional racehorse owner. It is believed that his father met his mother, May Lyon Taylor Globe, in the Spring of 1919 in Baltimore, Maryland, while he was on a race circuit. This circuit usually began the year, for the first couple of months, in New Orleans, Louisiana; then to Florida; north to Maryland, New York, Ohio or Canada; and, late fall back to New Orleans.
He was born on December 6, 1920, in Baltimore, Maryland. The American Racing Manuals published yearly, show his father's earnings from 1915, to 1931, with no earnings being reported for 1921. This may have been a result of his wife's request to take time off with his newborn son. For the first two or three years, they lived in Baltimore, Maryland, in a neighborhood of "Row Houses." This house was built in 1913, and was two-stories, brick construction, and had no indoor plumbing.
Since his father's profession was horse racing, they would spend quite a bit of time on the road (the race circuit) living out of a suitcase.
On June 2, 1926, his father and mother purchased 160-acre farm near Middletown, Indiana. His mother had decided that Clyde Jr. was getting old enough that they should have a permanent residence and that he should not grow up living out of a suitcase. They purchased the farm for cash, which was an extremely rare event. Also, they were the first people in the rural area surrounding Middletown to have indoor plumbing. They had a downstairs bedroom converted into a bathroom. They ordered the toilet and tub out of a Sears & Roebuck catalog. In fact, they ordered most everything out of this catalog.
Although they had indoor plumbing, it was rarely used because it drained into a cesspool, which would have to be drained and was considered an inconvenience. The house was wood frame with shiplap siding (the subsequent owner brick veneered the house – he was a brick veneer contractor). They had a wood burning cooking stove, kerosene oil lamps & heaters, and of course, a big metal tub (approx. 3 ft in diameter & 10 inches deep) to take a bath. They did not have an icebox. Instead, food was stored in the basement. There was a built-up wall approx. 3 to 4ft high on which potatoes, pickles, cold slaw, canned goods, etc. were stored.
The farm had a 'main' barn, which was multi-stories. The ground floor had several animal stalls and the second level was for hay storage. In addition, there were several outbuildings or storage sheds. Since he raised and raced racehorses for a living, he built a horse barn, which could hold 24 horses. The new horse barn had twelve; 12' x 12' stalls, on each side and the center isle was 12 feet wide. Above the aisle was an attic space for storage. They raised alfalfa, Timothy hay or corn for feed. They sold the alfalfa by the wagon load (probably a 12 foot high load).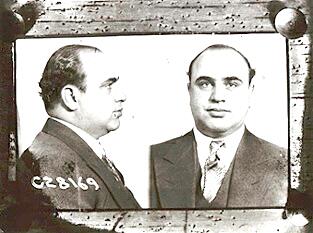 Al Capone (mug shot ca. 1931)
While traveling on the race circuit in 1926, they stayed at the Hawthorne Hotel in Cicero, Illinois. On September 20, 1926, there was an Al Capone shooting incident at Hawthorne Hotel. This incident is referred to as "The Siege of the Hawthorne Hotel". The hotel dining room was reportedly packed because it was the beginning of the autumn meet at the nearby Hawthorne Race Track (per a book written by John Kobler in 1971, on the life of Al Capone). Like most hotels of the time, the front of the building was all glass for the dining room and lobby. Al Capone and his lieutenant (Frankie Rio) were reportedly sipping coffee in the hotel restaurant when a speeding car drove past with the sound of machine-gun fire. This car was a decoy to draw Capone out into the open, blanks were fired. Rio was the first to figure out the ruse, so he pulled Capone down to the floor. Then several cars drove up and stopped in the street behind the cars that were parked diagonally. Their gun barrels stuck out of every window, along with some men standing outside of their cars. The attackers took their time and systematically sprayed the hotel façade left to right, right to left, up and down.
There were scores of cars standing at the curb, most belonged to race fans, including the Freeman's. Clyde's father was holding his hand and they were just leaving the entrance of the hotel to walked to their car when the gunfire began. As they ran from the hotel, his father turned into a front door alcove for protection. He, on the other hand, was frightened by the noise (thinking it was loud fireworks) and just began to run, he was only six years old. Fortunately, he ran the right way, away from the hotel. A bullet ripped his father's hat as he ran. Also, his father's place of refuge, i.e., front door alcove of a store, had glass falling all around him. As he ran, one bullet tore through Clyde Jr.'s pant leg and left a burn mark on his leg above the knee. (He was wearing his first suit with a full-length pair of pants vs. short-legged pants). Also, as he ran, his suit coat was open and another bullet shot out the pocket of his coat. A third bullet ricocheted off something and hit him on the top of his head leaving a bump.
Since his Mother was ready to leave for the track before him and his father, she had decided to go ahead to the car and read a magazine. She was sitting in the back seat of the car when stray bullets hit her and the car. She was hit 6 times in the left arm between the elbow and her wrist by machine gun bullets and once in the shoulder by a revolver bullet. She was also injured by a lot of flying glass shards hitting her in various parts of her body. In fact, these shards of glass would continue to come to the surface of her skin for the rest of her life.
After the shooting, she was taken, by ambulance to a nearby Catholic Hospital for treatment. Instead of receiving emergency treatment, she was left on a gurney in a hallway for over a day before someone, probably a nurse, finally figured out she was hurt and needed surgery. They finally took her upstairs to the operating room, but once the doctor realized she had multiply gunshot wounds and they didn't have a metal detector, they wheeled her downstairs to have X-Rays taken; they were finally able to operate on her to remove the bullets. What they couldn't see was the various glass shards, including one in her eye.
When Al Capone heard of her injuries, upon her release from the hospital, he had her transferred to an up scale room at the Hawthorne Hotel. He would stop by daily to check in on her and see how she was doing and would ask if there was anything he could do for her. On one such day, she told him that her son would like to go and see a particular movie that was playing in a nearby theater. He said all right and had one of his lieutenants, "Legs Diamond," take Clyde Jr. to the movie and bought him some popcorn, as well.
During her recovery, Clyde's Father noticed that she could not see out of her one eye. (There was a piece of glass in her eye). His father wanted the best possible ophthalmologist to take care of her. He found the best, but naturally, the doctor's schedule was full and she couldn't get in to see him for six months. The following day when Capone made his regular visit and asked if there was anything he could do, she told him 'Well yes, my husband couldn't get an appointment with this particular ophthalmologist for at least six months.' Without even blinking an eye, Capone said 'would tomorrow morning at 10:00 be alright?' She said, 'Well, yes.' 'Ok then, I'll have my armored car pick you up tomorrow and take you to the doctor.' Naturally, she did see the doctor that next morning and was completely taken care of. His father never received a bill from the doctor or the hospital, but it was rumored to have cost in the range of $10,000, which Al Capone took care of. While she did recover from this incident, in later years she had problems with her legs and feet, and the doctors attributed the problem to a mild case of blood poisoning from the lead in the bullets.
In the fall of 1926, Clyde entered Grammar School in Middletown, Indiana, and after two weeks was promoted to the second grade. On January 1, 1934, he graduated from grammar school and entered Middletown High School.
On February 10, 1938, his father and mother sold the farm, but continued to live there until Clyde graduated, on May 20, 1938. At the beginning of his freshman year, there were forty-two kids in his class. By the time he graduated, there were only twenty-five in his graduating class. This was due to such things as a child quitting to help work on the farm, a student's inability to pass a certain grade, etc. The ratio was thirteen girls and twelve boys. This same ratio seemed to follow this class through the years as one or another would die. In fact, at their 60th class reunion in 1998, there were five in attendance (along with his oldest son) and while not everyone was there, the ratio was still the same: five girls and four boys.
During June, of 1938, his family took a trip to visit his mother's relatives in Detroit, Baltimore, Maryland, and London, Ontario, Canada. From there they went to Miami, Florida, but didn't like the humidity, so they traveled on to New Orleans, Louisiana.
On September 13, 1938, Clyde enrolled in Loyola University of the South in New Orleans, Louisiana; Major, Pre Law. While at Loyola, he completed only one semester of college. He had made an attempt to obtain an appointment to Annapolis Naval Academy earlier while in Baltimore, but was not successful because he had a case of Poison Ivy at the time, plus his mother didn't want him to go away.
On May 1, 1939, Clyde withdrew from school; they started for Nebraska on their way to California. Their original plan was to go to Yellowstone Park, but decided it would probably be better to go south to Bisbee, Arizona. Going that route, they come to a fruit checkpoint, and they couldn't proceed (they still had half a bushel of Yellow Delicious Apples, purchased in Indiana). The fruit inspector said to dump them and they could proceed, but his mother asked if they could proceed if the apples were cooked instead. He said 'Yes,' hence they were eating applesauce for quite some time after that. They arrived in San Diego, California, in the fall of 1939.
On December 1, 1939, they moved to Glendale, California. Then on December 7, 1939, he enrolled in the Aero Industries Technical Institute, Inc. in Los Angeles. On May 25, 1940, he graduated from the Trade School and was hired by North American Aviation, Inc. in Inglewood, California. His position was in the Planning Department. With this new job, they moved to Inglewood
During August of 1941, he went to a dance on Riverside Drive (near Griffith Park), where he met Phyllis June Watson, student at Glendale Community College, who was living with her aunt and uncle in Burbank, California, while attending school. They started dating and became engaged to be married in February 1942.
On August 16, 1942, Reverend Babcock married them at the home of James J. and Emma Smith in Valley Center. They spent a two-week honeymoon in Manhattan Beach, California.
On August 31, 1942, Clyde joined the United States Naval Reserve in Los Angeles. After taking the Navy's aptitude test, he was enlisted as an Aviation Metalsmith, 3rd Class (Petty Officer). Then on September 2, 1942, he terminated his employment at North American Aviation, Inc., in the Experimental Planning Department, with the understanding that he would return when the war was over. At that time, he was making 93.3 cents per hour.
On September 7, 1942, he reported to boot camp at the United States Naval Training Station, San Diego, California. (Camp Decatur). He was in Company 42-5G while in boot camp. On October 2, 1942, he completed boot camp and was shipped to United States Naval Air Station, Jacksonville, Florida for assignment. Prior to being shipped to Jacksonville, he was given weekend liberty and spent time with his wife.
On October 24, 1942, he was assigned to Lee Field near St. Augustine, Florida - Plane Captain. While at Lee Field, he was granted 'flight orders,' which meant he had to fly at least four hours a month. This gave him an extra 50% pay. He was "back seat" in a biplane (trainer) and also sat in the "tail gunner" seat of a Torpedo Plane. This later plane held three. Part of the training was to go into a tailspin to simulate evasive action to avoid being shot by the enemy. The pilot's position was actually in the center of gravity of the plane, but the tail gunner position had the full force and effect of such maneuvers.
On March 16, 1943, he was transferred to Cecil Field near Jacksonville, Florida – Aviation Metalsmith. While stationed here, he tried for a promotion. There were two openings and five guys trying. One of the two open billets could be filled by mere selection by the Chief, thus four guys for one open billet. Upon taking the class and test, he passed. Since part of the test was on shipboard terminology, he, unlike the other guys, took it upon him self to study the terminology.
On July 1, 1943, he was promoted to Aviation Metalsmith 2nd Class and on July 25, 1943, he was transferred to Fort Lauderdale, Florida, where he reported to the A & R Hanger – Major Repairs.
On September 17, 1943, his wife arrived from California and they rented an apartment in Fort Lauderdale, Florida.
On October 1, 1943, he was promoted to Aviation Metalsmith 1st Class. He had obtained his promotion in a very short time because while doing guard duty one night in an office with a yeoman, the yeoman told him about a new Regulation that accelerated the time requirement between grades. This was due to the shortage of upper level Petty Officers as a result of the build up of the war effort. All that was required was for a Petty Officer to get the permission or authorization from his Chief, and he could take the test and be promoted. His Chief, here at Fort Lauderdale, was not aware of this new rule. So while the Chief told him it was a waste of time to take the test (the waiting period hadn't passed), he signed the authorization to take the class and the test.
On February 22, 1944, he was transferred to the United States Naval Base at Norfolk, Virginia for Reassignment. With this transfer, his wife on March 1, 1944 returned to California to live with her parents. From here, he was transferred to the United States Air Station at Willow Grove (near Philadelphia), Pennsylvania for approximately one month to modify some planes. Upon return, was transferred to United States Naval Base at Alameda, California for reassignment.
He began his trip westward on April 4, 1944. After a seven-day train ride through Virginia, Georgia, Alabama, Louisiana, Texas, New Mexico and Arizona, he arrived at Alameda, California. His train consisted of a "soft" coal-burning engine that was probably built just after the Civil War and the seats were of woven grass. While the grass seats weren't too bad, the soft coal smoke would blow into the passenger cars giving the passengers a suet tee appearance. He attempted to get an exchange of duty to go aboard ship, but unsuccessful.
Then on May 24, 1944, he was assigned to the CASU 48 aboard U.S.S. Chandeleur (Sea Plane tender) (PBM's). The ship went from San Francisco, California to Honolulu, Hawaii for 2 days to take-on supplies. They crossed the International Date Line on June 4, 1944, hence he become a member of the Realm of Golden Dragon. Afterwards, they arrived at Saipan, Marianna Islands, on D Day plus One, where they anchored in harbor until the harbor around the seaplane port was considered secure. The rest of the island was still under attack.
He and two other metalsmiths were given a detail ashore in Saipan. They were to make some minor repairs to a PBM. The job only took a couple of hours and since it would be several hours before their work boat would return, they decided to explore the island. The other two figured the best bet was to climb to the top of the hill to get an overall view of the whole island. What they walked into was the front line and came under fire. They ducked into a tent for cover, which turned out to be that of the Officer in Charge of the Marines under attack. Clyde decided to explore the area around the airstrip. A passing Army truck stopped and offered him a ride. Their mission was to look for usable lumber to build barracks. They followed the road to its end, passing several check points, only to find out that they were behind enemy lines. On this trip, he noticed many white markers in the fields they drove by. He later found out that they were markers for foxholes of the Marines, thus he had been at the "front line" and actually behind enemy lines. These white markers where parachutes the Marines used to provide shade over their foxholes. Although they were behind enemy lines, the only real advise they were given was to not get to close to the cliffs, because there were still many Japanese soldiers 'dug-in' the cliffs. Also, on their way back, a Marine asked if they would take back with them, to base, some Japanese prisoners, which they did in the back of the truck.
After this truck ride, he came upon an abandoned house, or villa. It had been the palatial residence of Admiral Nagumo, the infamous Japanese Admiral who directed the sneak attack on Pearl Harbor, from aboard one the carriers in the attack fleet, Hawaii on December 7, 1941.
After their time in Saipan, the ship went to Peleau Islands and anchored near Bablethorpe until they were considered secure. Then his ship went to Ulithi Island for rest and recreation (R&R) for a short period, then returned to Saipan, Marianna Islands.
On September 5, 1944, his mother died in the United States Naval Hospital, San Diego, California. (May Lyon Taylor Freeman).
On February 10, 1945, he was assigned to Aviation Metal Shop on Saipan, Marianna Islands from CASU 48.
Then on September 24, 1945, he was transferred to the United States Naval Personnel Separation Center, Terminal Island, San Pedro, California. Transportation was by merchant ship, Latimer, which arrived in Puget Sound, Washington on October 20, 1945, and anchored beside the U.S.S. Missouri. The Salvation Army, who passed out small cartons of milk to everyone on board, greeted his ship. Then transportation was by railroad train to San Pedro, California.
On October 27, 1945, he received an Honorable Discharge from United States Naval Reserve for the convenience of the Government. Then on November 2 to 9, 1945, he and his wife took a much-deserved vacation.
November 9, 1945, they moved to Los Angeles, California. November 12, 1945, he went back to North American Aviation, Inc. regarding his re-employment, since by law he was entitled to get his job back. But, they said to do so would mean that they would have to fire someone. Not wanting to create a bad situation or cause someone to be laid off, he said 'forget it'.
Since he was now officially unemployed and had the advantage of what was known as the "GI Bill", on November 13, 1945, he enrolled in the University of Southern California to complete his college education. Although he had previously been a pre-law major, he decided that he would rather obtain an Accounting Degree. Even though school had already started, on the first of November, they felt this would not matter and that he could quickly catch up. While attending school, to earn extra money, he graded papers and tutored students after school.
On November 25, 1945, they moved into an apartment on South Figueroa Street, Los Angeles, California. They lived there until he graduated in 1948. They had found this place by accident. As can be imagined, with all of the GIs coming home and basically no new housing having been built, there was a tremendous shortage of housing. They were sitting in a Malt Shop when they over heard a lady talking about her neighbor moving out. They asked her if she knew whether or not the unit was already rented. She didn't think so and connected them with the landlord. They moved in as the other lady moved out. It was a duplex with a front lawn and backyard. This lot later became a part of a parking lot for a Thrifty Drug Store.
February 1, 1947, their first son, Clyde Newell Freeman, III was born at Methodist Hospital, Los Angeles, California. Just a few months later on May 23, 1947, he became a member of Iota Chapter, Beta Alpha Psi at USC, as well as becoming a member of Alpha Zeta Chapter, Alpha Kappa Psi at USC. Later on January 15, 1948, he became a member of Beta Chapter, Beta Gamma Sigma at USC.
In the latter part of his senior year at USC, on March 22, 1948, he began part time employment with Harry B. Mills, CPA, on Wilshire Boulevard, Los Angeles, California. A couple of months later, on May 4, 1948, he became a member of Phi Kappa Phi at USC, then on May 10, 1948, he became a life member of Alpha Kappa Psi, and finally, on May 13, 1948, he became a life member of the general Alumni Association, University of Southern California.
On May 19 – 20, 1948, he took and passed the Practice and Commercial Law parts of Certified Public Accountants examination.
Clyde graduated CUM LAUDE from the University of Southern California, Bachelor of Science, Accounting Major, on June 12, 1948. Just after graduation, on July 1, 1948, he became a full time employee for the accountancy firm of Harry B. Mills, CPA, and on August 6, 1948, he received his license from the State of California as a Public Accountant.
On September 23, 1948, they moved from Los Angeles to a new home they purchased in Gardena, California. Purchased with the help of the GI Bill home purchase program.
On November 18, 1948, he passed the Theory part of Certified Public Accountants examination.
On April 22, 1949, his father, Clyde Newell Freeman, died in San Antonio, Texas. The next month, May 20, 1949, he passed the Auditing part of Certified Public Accountants examination.
On January 25, 1950, his second son, Gary Cutler Freeman, was born at Methodist Hospital, Los Angeles, California.
The following year, on June 6, 1951, he received his license from the State of California as a Certified Public Accountant. Then on March 17, 1952, he terminated employment with Harry B. Mills CPA and on April 1, 1952, he became a partner of Benson & Freeman in Los Angeles. This was followed on June 30, 1952, with becoming a member of the American Institute of Certified Public Accountants. This partnership continued until March 31, 1956, when he terminated the partnership of Benson & Freeman and became a sole proprietor.
Then on June 1, 1957, he formed a new accountancy partnership and became a partner of Freeman & Lucas on Vermont Avenue in Los Angeles. Although he was a graduate of USC, his new partner, Bob Lucas, was a graduate of UCLA. Undoubtedly, there were many a conversation and 'ribbing' through the years as one school or the other would win a football or baseball game.
After many years of building a base of clients, he finally had the luxury of taking a vacation. On August 20 – 22, 1959, he and his family vacation at Sequoia, Yosemite and Kings Canyon National Parks. He purchased an Army surplus umbrella tent, Coleman lantern, two cots, an ice cooler, two burner Coleman stove, four sleeping bags, etc., from a local surplus store.
This was the first family vacation since all of his time and energy was spent on building his client base. This was especially true the end of December through the first of May each year. The nature of the beast, or curse of being a self-employed CPA, is that of what's called "Tax Season" – the preparation of various income tax returns and filings.
Although this part of the job took him away from his family, he would make up for it during the rest of the year, as much as possible. Trips to Disneyland, Knott's Berry Farm, USC football games, visiting the Rose Parade floats, and playing football or baseball with his sons. He seemed to always have time to play "street ball" with the neighborhood boys. In fact, he played so much with them that you would often hear: 'Hey, where's Mr. Freeman? We can't play football (or baseball) without him.'
During mid 1959 thru 1960, he was one of four partners in a partnership, which purchased lots in the 'high desert' area of Southern California to build, and sell duplex properties. Then in the beginning part of 1960 he purchased 2 ½ acres from a client of his, Jack Thornburg of Thornburg Engineering. Jack Thornburg had purchased a working Black Angus cattle ranch in Pauma Valley, California. John Wayne, the actor, had at one time occupied the ranch house. It included several hundred acres in the valley, which today is the Pauma Valley Golf Course & Country Club, as well as several hundred acres going up to the hilltop of the southern side of the valley.
The land they purchased for their new home was in Valley Center. It was at the top of the mountain over looking Pauma Valley. There had been a prior old homestead on the site, although there was basically nothing left of the house at the time of their purchase. Just off the property a natural spring which had a cemented basin to collect water, so their well was dug adjacent to it.
Among the reasons for this move, was that his partnership was growing, along with staff, and he really would rather spend his time on accountancy matters, and not staffing or personnel matters. Also, growing up in a rural area, he enjoyed living in the county. In addition, this allowed his wife to be closer to the rest of her family. They had been making one or two trips a year to visit her father (he died in 1955), brothers and sisters. Her family lived in Valley Center, Escondido, Ramona, and San Diego, all within San Diego County, California.
He was also active in the Gardena YMCA and was a member of the Gardena "Y's Men" – local men that donated their time to help with various fundraisers for the "Y". This included selling Christmas Trees for the "Y", and would take his oldest son to help.
Then on December 1, 1960, the family moved into their new home in Valley Center, California. He called it "Castillito del Cielo" – little castle of the sky. He terminated Freeman & Lucas partnership and became a sole proprietorship in Escondido, California. Now his job at hand was to again build up a good base of clientele. Naturally, he was again caught in the "Tax Season" cycle, thus for several years again, he became an 'absentee father,' working late into the night and leaving early in the morning, usually before his sons got up to go to school.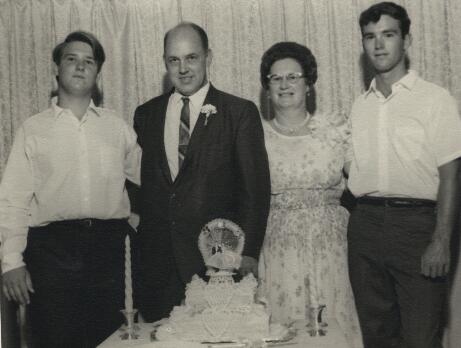 Clyde's Family (Gary, Clyde Jr, Phyllis, and Clyde III)
Photo Aug. 12, 1967
On August 12, 1967, he and his wife were given a surprise 25th Wedding Anniversary at the home of Stephen L. & Janice V. Thompson (his sister-in-law), in Escondido, California. Since they had had a small, informal wedding during WW II, they did not have a 'wedding cake'. Therefore, Janice and his oldest son (then in Junior College) were in cahoots with each other to plan a surprise Anniversary Party at her house, including the 'wedding cake' they never had. She gave them an invite for dinner and cards (a common event) and he was to ensure secrecy and no glitches with their being there. Her whole family was there and Stephen took a picture of them with their sons with a wedding cake, which appeared in the local paper with a nice write-up of the Anniversary.
It was during 1971 that he became very interested in genealogy and began what would later be a thirty-year plus hobby or passion. On April 18, 1972, he became a member of the Sons of Confederate Veterans, followed on December 12, 1972, becoming a member of Sons of the American Revolution.
December (first week) 1972, he and his oldest son took a one week road trip. His son had called and said he had a week's vacation to take or loose it, so "how about the two of them going somewhere?" He made the mistake of asking 'where do you want to go?' The answer was to Washington DC, thus the stage was set for a whirlwind road trip. The trip would be a combination of site seeing, cemeteries, and Archives. His son drove down on a Friday afternoon from Glendale to Valley Center they left around 5:00 p.m. They arrived in El Paso, Texas around 5:00 a.m. Whenever they would stop for gas, they would trade driving. This trip took them through Jackson, Mississippi; Birmingham, Alabama; Knoxville, Tennessee; to North Carolina, then Virginia (Tinkling Springs Cemetery), and finally into Washington, DC, for a two day stay. Then they headed to Richmond, Virginia, Atlanta, Georgia, then to New Orleans, Louisiana, to visit an old college buddy, John Crowther.
While on this leg of the trip, they stopped in Arkansas to visit Aunt Effie, then to Dallas and Fort Worth, Texas, then down to Bluff Dale, Texas. In Bluff Dale, they visited the house where his great grandfather, Wesley Newell Freeman, had last lived and to Rock Creek Cemetery to visit Wesley's grave site. Then they headed to San Antonio, Texas and visited the gravesites of his father, Clyde Newell Freeman, Sr., and his grand father, Robert Vance Freeman. They were back in Valley Center Sunday afternoon ending a nine-day road trip, and his son drove home to Glendale and was back at work that Monday morning.
On July 28, 1973, he and wife attended his oldest son's marriage to Diana Joy Schlee at the First Methodist Church in Burbank, Calif. This marriage was closely followed by his youngest son's marriage on August 18, 1973 to Ernestine Vesques in San Diego, Calif.
On February 28, 1974, he became a member of the Military Order of the Stars and Bars, General Society. Then on May 26, 1974, he and his wife visited her Aunt Phyllis Martz in Hyndman, Penn.
The following year, on November 23, 1975, he and his wife gave a 25th wedding anniversary party at their house for Stephen and Janice Thompson, his sister-in-law and her husband.
On June 26, 1976, they visited John Crowther in New Orleans and again in
June 1978. On this second trip to visit John they decided to bring John with them back to California for a visit. John had never been west and was thrilled at the opportunity. John spoke with great fondness of that trip for years to follow. It was his trip to the 'wild west.'
On November 13, 1982, he became a member of Society of Mayflower descendants – General Society.
On June 5, 1986, they visited Plymouth Rock, the Plymouth Descendants Society House, the reproduction Mayflower II ship and various historical sites Boston, Mass., such as the USS Constitution ("Old Ironsides"), Paul Revere's house, the Old North Church, Bunker Hill, etc.
After many years of his wife asking and wanting to go to Hawaii, finally October 17 – 25, 1989, they went to Hawaii for two weeks vacation. His reluctance to go for so long was because of having been there during WWII, which by no means could have been considered a vacation, nor of much interest to him at that time. Naturally, since then, there were many changes/improvements and various WWII monuments that had been created since 1944. They first went to the "Big Island" staying at the Kona Hotel, exploring the City of Refuge, Volcano National Park and drove to the other side, Hilo. Flew from Hilo to Oahu and visited the North Shore, the USS Arizona, Bishop Museum, and the Iolani Palace.
They now had the traveling bug, for on September 2 – 9, 1990, they went to Alaska. Sitka, the old Russian Capital visiting the museum, totem poles and Native dancers. Flew to Juneau visited a Salmon hatchery, old section of town, the Governor's Mansion, and the cruise ship docks. Then to Ketchikan and visited two different totem pole exhibits, and toured the town.
On July 26, 1992, they were again given a surprise-wedding anniversary. This time, it was their 50th wedding anniversary and it took place at the "family picnic" reunion in Julian, California. It was a surprise given that their anniversary is in August. Most all of the family was there, her brothers and sisters with their children and their children and grandchildren. The surprise included a 'Happy Anniversary' cake and a "money tree". His youngest son had picked up a small manzanita bush while at their house one day and painted it gold. Then everyone attached paper bills to it there at the picnic, before they had arrived.
Again they traveled several places in 1994, including a trip on September 2-6, 1994, as a family trip to Texas visiting the Alamo, Houston Space Center, and Dallas. This trip included both of his sons.
On June 5, 1995, they visited Middletown High School. It had been raised in 1993, and the concrete step is all that is left. The school site is now a city park. This was followed by another trip on September 15, 1995, again to Alaska. They visited Anchorage, the Portage Glacier, Seward (tsunami), and Denali National Park. Obviously, they enjoyed Alaska so much that they went again on June 6-13, 1997, visiting Fairbanks and Denali.
On July 25, 1998, he and oldest son went to Indiana and Kentucky and visited Mammoth Caves, Fort Knox, and the ancient Indian Monds. On July 26, 1998, they went to his 60th class reunion of Middletown High School. While there, the two of them toured the town, the site of his childhood home, and visited one of his classmates. His son really enjoyed this trip and the time they spent together.
SPECIAL CLOSING REMARKS
This story is unique in nature. Clyde's oldest son prepared it while he was alive, vs. all the other stories having been written by Clyde, after the death of the various individuals. His oldest son authored this story with the use of a general outline requested by, and provided to, him by Clyde. That outline was then expanded into a story, similar in style to what he had prepared. It was from that story that this was prepared. Since his oldest son wanted him to know how his story would be written, and especially because of some of the various personal input about events and travels of the two of them, his son presented it to him in June, of 2004, for his review. This was especially beneficial since his son had some of his Navy stories a little confused.
While there were no major trips post 1998, there were various family visits and events, e.g., Mother's Day picnics, summer picnics, Thanksgiving gatherings, Christmas gatherings, and New Year's Day gatherings with his two sons and their families. Because of the mileage distance between him and his oldest son, actual visits were two or three times per year, whereas, with his youngest son living closer, there were a few more visits per year. Although, he and his oldest son did not see each other very often, they did enjoy many a phone conversations, both weekly and monthly, throughout the later years. Through these conversations, and having a lot in common, both professionally and as well as personal interests, they did have a very good and rewarding relationship.
Basically, through the last year or so of his life, his health had begun to wane, especially during the latter part of 2004. It was because of this, along with sever back pain due to two-cracked vertebra, he had decided mid-May 2005 that it was time to finally retire. He also felt that it was time to move out of the "country" and be closer into town. Several conversations about these issues were discussed with his sons, however events happened too quickly.
On the evening of Wednesday, June 22, 2005, his wife called the paramedics because he was non-responsive. He arrived at the hospital in a coma. This coma was apparently brought on by an infection in his left leg, which quickly developed toxins in his blood, thus inducing the coma. He continued to be non-responsive while in the hospital and passed away on June 28, 2005, at 12:50pm. He wanted an "immediate burial" and without a lot of "to do", therefore, it was only family members and a few close friends in attendance for a "private" gravesite service. Services were July 1, 2005, ~ 2 PM at Oak Hill Memorial Park in Escondido, Calif. A local Chaplin performed graveside services. Since he and his oldest son had discussed full military honors and a flag draped coffin, his son made sure this was arranged. Although graveside services had not been discussed, his son felt a "Chaplin" would be good. Something the two of them were familiar with, each having been in the Navy.
The Chaplin offered words of comfort and phrases from the Bible. He then offered the opportunity for anyone to say a few words, which did happen. His oldest son concluded this portion of the services. He 'thanked' everyone for being in attendance and that the "family" appreciated their being there. He then read a card from one of Clyde's clients he'd found in Clyde's office desk and commented that this card "says it all" about his father. It read, "Dear Mr. Freeman: I have to say it's been nice to see that people can keep their word, that things can still be done on the trust of a hand shake. Ron Awdes". After closing comments by the Chaplin, the Navy bugler delivered Taps, after which the two sailors folded the American Flag and presented it to his wife offering 'Thanks from the President of the United States, a grateful Nation, and the Navy for his service to his country,' along with condolences.
Clyde enjoyed poetry, therefore his memorial card had the following poem:
"To Those I Love When I am gone, release me. Let me go.
I have so many things to see and do. You mustn't tie yourself to me with tears.
Be happy that we had so many beautiful years. I gave to you my love.
You can only guess how much you gave to me in happiness. I thank you for the love you each have shown, but now it's time I traveled on alone.
So grieve a while for me, if grieve you must, then let your heart be comforted by trust.
It's only for a while that we must part, so bless the memories within your heart.
I won't be far away for life goes on. So if you need me, call and I will come.
Though you can't see or touch me, I'll be near. And if you listen with your heart, you'll hear all my love around you soft and clear.
And then, when you must come this way alone, I'll greet you with a smile, and say ~ "Welcome Home" ".
His obituary ran in the Escondido paper, North County Times, on that same day. It read as follows:
"VALLEY CENTER – Clyde Newell Freeman, Jr., 84: died Tuesday June 28, 2005, in Escondido. Born Dec. 6, 1920, in Baltimore, he lived in San Diego County for 44 years. He was a self-employed certified public accountant for more than 45 years. He served in the U.S. Navy during World War II. He was a life member of Phi Beta Kappa. He graduated from USC in 1949. He enjoyed genealogy and football. His wife of 63 years, Phyllis Freeman of Valley Center; sons and daughters-in-law Clyde III and Diana Freeman of Carpinteria and Gary and Ernestine Freeman of Mira Mesa; grandchildren Kimberly, Michael, James, Gabriel, Joshua, Mathew and Anthony; and nine great-grandchildren survive Mr. Freeman. Private family services and internment at Oak Hill Memorial Park are planned. McLeod Mortuary in Escondido is handling arrangements."
Without really having a clear mind at the time, for purposes of the Death Certificate, his oldest son stated that Clyde had been a CPA for over 45 years. Well, 45 years in Escondido, but in actuality, 57 years as an accountant, of which, 55 years as a Certified Public Accountant (CPA). To correct this error on his part, and to accurately reflect his father's professional tenure, which was quite an accomplishment by any standards, he requested an amendment to the Death Certificate to show the 57 years. This will be as a second page to the original showing the 45 years. Also, Clyde graduated in 1948, not 1949 as his son stated.
Not only having been an active accountant for over 57 years, it can be said that he also "raised the bar" of the Freeman male decedents. At the age of 84, he holds the title as "the oldest Freeman male" for six known generations. His fore fathers had only lived to the ages of 54 to 78.