Lee Opal Cole was born on Aug 20, 1931. Her astrological sign was Leo. Her mother was Mary Irene Hill Cole, age 25, and her father was Robert Marvin Cole, Sr. age 31. Mary had brown hair, brown eyes and was about 5'2" tall. Robert (Bob as he was always known by family and friends) was about 5'9", lean, and had red hair and blue eyes. Bob's hair was long and he combed it backward across his head. Lee was born in Murfreesboro, Rutherford County, Tennessee. Her brothers think she was born at home.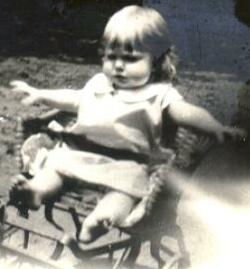 Lee at one-year-old.
At the time of her birth, she had an older brother Robert Marvin Cole, Jr. Robert was age 4, a red-head with blue eyes. She had another brother, Aubrey Glenn Cole, age 3, who was also red-headed with blue eyes. When Lee was 4, her brother J.H. was born. J.H. was also red-headed. He was later nicknamed Jakie. Just before Lee turned 10, her brother Thomas Ray was born. Thomas was brown headed and brown eyed.
At Lee's birth, she had a paternal grandfather William Glenn (nicknamed Pape, pronounced 'pap') Cole who was 74. Pape had dark hair. He was born in 1857, before the Civil War. Pape's wife Mary Tennessee Manire was born in 1866, right after the war. She passed away on August 27, 1913; 18 years before Lee was born. Pape never re-married.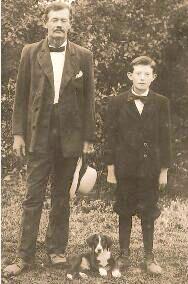 Pape and Bob Cole in 1913
Mary Tennessee Manire Cole was red-headed. Most likely her Irish roots and gene's were the source of the red-headed Cole descendants of subsequent generations. Her nickname had been 'Tennie'. 'Tennie' had died when her son Robert (Lee's father) was about 13 years old. Grandpa Cole said she died of the milk sickness at the age 47. The milk sickness was caused by cows that ate Snakeweed during the drought of 1913. The Manire family was prominent in the Rutherford County Tennessee area and much can be found about them in local history books and on the web.
Pape had raised three girls and one son to adulthood. Five other children (three sons and two daughters) had died in their youth of various fatal viruses. I've been told by her brothers that Lee was Pape's pet; that he was very fond of her and spoiled her often.
Lee also had a materal grandmother Dora (Eudora) Smotherman Hill, who was 53. Her maternal grandfather John Henry Hill who was 54. John was a red-head, another source of Cole red-heads.
Lee was named Mary Ann Cole at birth, but her mother quickly renamed her Dora Leopal Cole after her grandmother's nickname. I believe I once saw Lee's birth certificate that had Mary Ann on it, but had been corrected to say Dora Leopal. Lee never liked that name and went by Lee and/or Leopal. My sister and I called her Momma Lee. We called our grandparents Momma Cole and Daddy Cole.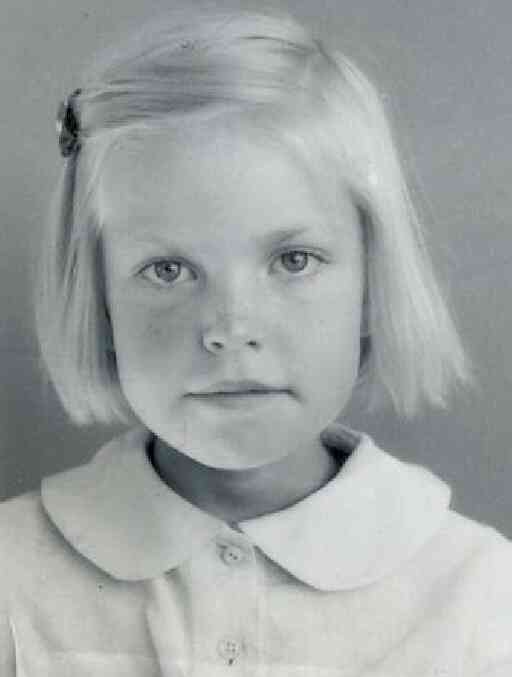 Lee at age 9
Lee was a beautiful blonde-haired young woman. She was a thin and active woman. She had beautiful blue eyes. She had a small build and was about 5 foot 4. In her teen years she probably weighted about 100 pounds soaking wet. She always called herself a 'late bloomer' when she would tell me stories about her youth.
I remember as a very young boy thinking how beautiful she was and being very jealous of her. I even told her I wanted to marry her when I grew up. She would laugh and try to explain to me that boys couldn't marry their Mommies. My sister Glenda used to kid me about it too. I, being so young, could not understand that. It's been said that many a suitor was chased away by Lee's brothers, whom supposedly were over-protective of her; like her mother.
I don't know much of her childhood, but I do know that Lee was bright, and at age 13 or 14 when she graduated from grammar school (see photo below), her mother gave her a pair of lead-crystal candle holders as a graduation gift. Back then lead-crystal was a popular gift. Mother later gave them to me to give to my daughter as an heirloom.
Lee's maternal grandmother Dora Smotherman Hill died at the age of 70 when Lee was 18. That same year her maternal grandfather John Henry Hill died at the age of 71. Within the year while Lee was still 18 and a senior at high school, her grandfather Pape died at the age of 92.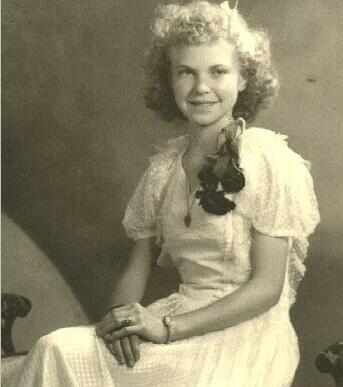 Lee at age 14
Lee graduated Central High School, in Murfreesboro, Rutherford County, Tennessee, in 1950. It was about that time she met my father, Kenneth Allen Freeman, at a party. Lee was working at the Princess Theatre, a block from the Murfreesboro town square at the time.

Lee at age 17
Ken was an Airman and was stationed at Sewart Air Force Base in Smyrna, Tennessee, about 15 miles from Murfreesboro. They dated for a short time and married on July 1, 1950. They got an apartment a few blocks from Lee's work near North Maple and East Burton Streets, about a block from what was then Crichlow Grammar School (now the ISD for Murfreesboro. Two months later the Korean War began and Ken was stationed in Korea.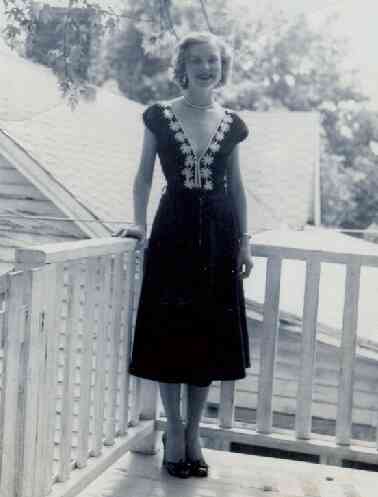 Lee at age 19
My sister Glenda Lee was born near the end of March of the next year. Ken was not able to come home for her birth. He finally saw her when she was around a year old in about July of 1952 when Ken returned home from the Korean War. Ken drove Lee, Glenda, and Lee's father 'Bob' to Texas to meet his Ken's Grandma Kate Freeman who was 64 at the time and his Aunt Jo and Uncle John McFadin. Aunt Jo Freeman McFadin was Ken's father's sister. After returning to Tennessee, he then drove Lee and Glenda to Palm Beach Air Force Base, where he was PCS (stationed).
In late May of 1953, it came time for me to be delivered. Mother and Dad were living in Murfreesboro, again. Dad rushed Lee to the hospital, barely making it before I made my appearance. Both said I was nearly born in the taxi cab. They gassed my mother up as soon as she hit the door and it also put me to sleep. So after delivery, they were not able to detach the embilical cord for about ten minutes until I woke up, I was told by her. I was born just slightly before midnight, but since the delivery was not complete until after midnight, the doctor claimed I was born on the next day; the 23rd. My birth certificate stated the May 25th however, until I had it corrected in 1971 to join the Air Force.

Lee and Ken Freeman (abt. 1950)
The early 50's was a hopping and exciting time with the music changing. And cool cars and motorcycles were the happening thing. When I was about 2 years old, Lee and Ken divorced.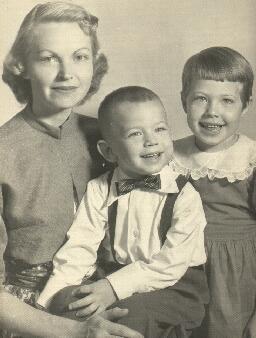 Lee (29), Alan(7), and Glenda(9) in about 1960
Lee moved to a housing project with Glenda and me. It was there that I got the first spanking that I remember. She had gotten a golden brush, comb, and mirror vanity set as a gift from someone. I acted out and she tried to spank me with it. It broke and I laughted at her. It upset her at first, but then she realized the humor in it and ended up laughing about the matter.
In another incident, I remember waking up at night and seeing a man trying to remove the window screens. I told her of it, but she didn't believe me. This happened on yet another night. She called the police and they found that in fact the window screens had been unbolted and were almost about off. The police said they had reports of a 'Peeping Tom' in the area.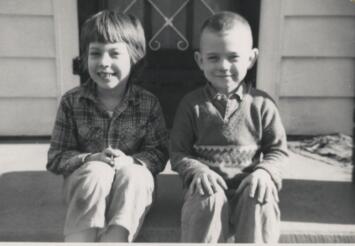 Glenda and Alan Freeman in about 1960
In yet another incident, I was playing with her iron on the floor and plugged it in. This was when I was about three or four. The iron got stuck to the vinyl floor. It was there several days, until I plugged it in again and when it heated we were able to lift it up.
One other incident I recall about that time was getting a whopping for having been missing for half a day. She swore I was at the nearby railroad tracks. I was not, but I could not convince her, so she she punished me. Actually I had been hiding and playing with a neighborhood girl. I did not confess to that until I was a teen-ager.
After the housing projects, we moved next door to my great-grandfather's store on West Main Street. I remember the steps there, it being an upstairs apartment, but hardly nothing more.
I remember when we were visiting a friends house, her getting frustrated because I would not eat spinach. Mother insisted that I eat it. I finally did, got sick, and threw up everywhere.
While these seemed like bad times, I actually remember having more good times than not. At all these places, I do remember playing and bonding closely with my mother.
We moved in with my grandparents in about 1956. When I was about 4 or 5 years old Lee started dating a man named Jimmy Harris. Jimmy had a motorocycle and would take my sister and me riding. He bought me a leather jacket, I remember.
About that time, Lee's parents, Bob and Mary, bought a new home and moved from 927 West Main Street to 506 North Church Street. While living there, Lee had my sister Jennifer Elaine Freeman.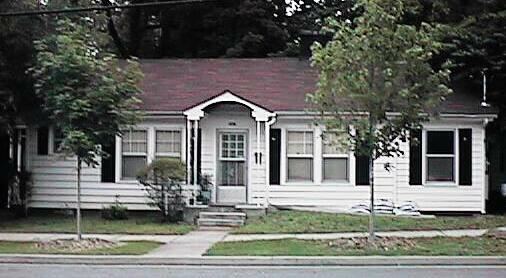 506 North Church Street, Murfreesboro, Tennessee
Jennifer was blonde headed at first and was very cute, active, and playful. I remember hanging on to her all the time and was very protective and fond of her. A year or so later Lee allowed our cousins to adopt Jennifer, since Lee was physically and mentally unable to care for her. Jack and Helen Williams adopted Jennifer. They lived in Nashville, Davidson County, Tennessee. Jack was son of Ruth Ester Cole Williams, Lee's fathers' sister.
I remember visiting them to see Jennifer in Nashville several times a year. We were introduced to Jennifer as cousins and my grandparents were called her Aunt Mary and Uncle Bob. I recall that Jennifer always turned her spoon upside down before reaching her mouth and I would crack up. I remember telling her she was 'co-ordinated', and she'd repeat 'co-nord-din-nated'.
When I was about 9 in 1962, Lee met a new friend, Lee Wagoner. She, he, and my Uncle Tommy headed to southern California, leaving my sister Glenda and me with my grandparents as our guardians. Mother got a job as a dietician, fixing food for sick people in a hospital. She sent us pictures of her with Santa Claus at Christmas time and we were very excited. She also sent me a transistor radio, electric train, boy scout uniform, and things that I wanted badly. She wrote often and called occassionally.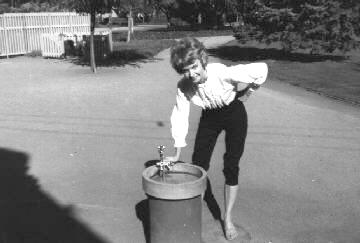 Lee at age 34, in about 1965
While in California, my mother had my sister Marilyn Ann. born in November of 1963. Mother was living in Palo Alto or Burbank California at the time. She struggled to keep up her lifestyle, but eventually could not, due to mental illness. Mother was forced to put Marilyn into foster care. Lee was hospitalized for a while and eventually her mother convinced her to Tennessee, after much prodding.
When she returned to Tennessee, she was hospitalized in mental health facility. She had experienced a nervous breakdown. She had a slow recovery. Lee fought for years to regain custody of her daughter.
By then, the state of California had taken custody of her daughter Marilyn and had given her to foster parents. Mother did not have the money or the strength to fight the system. And Marilyn's father had abandoned helping her. She was broken hearted and decided to do the best she could with her remaining children, Glenda and me. She did not tell me about Marilyn immediately. Only later did I find Marilyn's birth certificate, but mother told me very little about her. In foster care, a home was finally found for Marilyn and her name was changed to Donna Odette Fitch.
Around this time Glenda had become discontented living with my grandparents and convinced our father to allow her to move to West Palm Beach Florida to live with him and his new bride Susie. This was about 1965. Glenda was 14 and I was about 12.
I remained with my grandparents. My grandfather Bob Cole was like a father to me. Giving me lessons on how to build and repair things, shave, lessons about becoming a good young man, and religious advice. He worked in McMinnville Tennessee at a hosiery mill. My Grandma Mary Cole worked days at a clothing department store named the 'Charles Store.' I'd clean the dishes sometimes and keep my room good and clean. Grandma was a little bit of 'pack-rat', keeping newspapers, and she had a closet and garage packed full of junk. But on the surface, the house was neat. When I wasn't home, I spend many nights at my cousin Mark Cole's home. His mother Ruth was like a second mother to me also. She would later marry Rev. Woodrow Medlock
I became lonely for my sister and convinced my father to bring me to Florida too. I moved there when I was about 13, stayed for about 8 months, and then returned to Tennessee. I thought he and my step-mother were too strict and I became lonely for my grandparents with whom I'd grown up with.
When Lee was well, she rented an apartment next door to her parents. She got a job at a drive-in food place. I lived with her at the apartment. She worked late, but would always bring me something when she got home, like a milk shake or hamburger. If I was awake, I'd stay up with her awhile and we'd talk.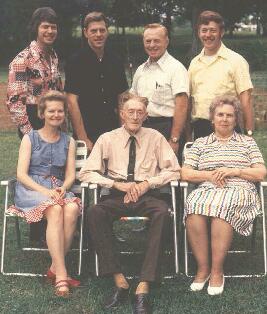 The Robert M. Cole Sr. Family
Back: Tommy, Jakie, Robert, Aubrey
Front: Lee, Bob, Mary
She started to date a long time friend, Hollis Spence, after a while. She got a job at an indoor play land called called 'Playland' at a shopping center and started getting off earlier. Hollis worked at General Electric, 2nd shift, and he'd come over after work for several hours and they'd watch TV or talk.
They dated for several years, while I was in high school. During that period my Grandfather Cole taught me to drive.
After high school, I was a few credits short of graduating, so I took my GED to get my diploma. Lee bought me a car after graduation. First an English Ford, that broke the first few days after I got it, then a Pontiac Bonneville. Then I joined the Air Force, fearing being drafted into the Vietnam War. I had a low draft number and figured the Air Force would be better than the Army.
After basic training at Lackland AFB in San Antonio Texas, I was stationed in Illionios as a security policeman. After 6 months, I asked for cross-training into electronics and was restationed to Sheppard AFB, Wichita Falls, Texas, for three months of training. While there, Lee and Hollis and my high school girlfriend Judy Davis came to visit me. It was after that, that Judy and I married.
Lee had planned to marry Hollis, but said she would only do so after I was married, so she and Hollis planned their wedding too. We were married a few days apart near Christmas of 1972. Judy and I on the 22nd and Lee and Hollis on Christmas Eve. Mother and Hollis were married by Rev. Robert Harrell, I believe, at her parents house at 506 North Church Street.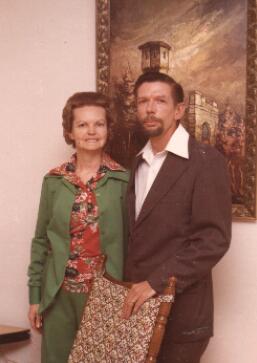 Lee and Hollis Spence in about 1984
I was then stationed at Panama City Beach, Florida, where my wife Judy joined me. After about a year there, I was stationed in the Philippine Islands and Japan. Lee and Hollis drove my car to the port in Biloxi where it was shipped it to me. Judy joined me there a few months later.
While I was in the Philippines, mother wrote me regularly. I called her long distant often. Using an Air Force hotline, I was able to call the nuclear plant at Oak Ridge Tennessee, and they would patch my phone calls over to my mother. I was there for three and a half years. In that time, Lee and Hollis bought a nice three bedroom house at 2007 Rogers Street in Murfreesboro. Lee and Hollis had started going to an Episcopalian Church. Lee was always pretty religious, by the way.
After returning to the states from Japan and Philippines, I was stationed in San Bernadino, California. I received my honorable discharge from there in March of 1976. Immediately afterward I visited and stayed with my Uncle Tommy (Thomas Ray; Lee's brother) at his home in Beverly Hills. In the late summer, I returned back to Tennessee to go to college. I received full Vietnam Veteran educational benefits. So in the fall of 1976, I started college at MTSU (Middle Tennessee State University).
My first wife Judy and I divorced in 1976. We both filed, but the judge dismissed my suit and processed hers. I was 23 years old. Mother was about 45 then, Hollis was 40. Incidently, Hollis was born on Sept 26, 1936. Mother was five years older than he. They had originally met after high school. Hollis' great-grandmother was my mothers' great-grandmother also. They did not know it at the time. Her great-grandmother Queeny Fredrika Smotherman had later remarried and was Queeny Fredrika Spence. While they shared a great-grandmother, their great-grandfathers were different.
While attending college I worked at a Murfreeboro radio station, WMTS-FM 96.3. Mother would listen to my show every day and sometimes call me and request a song. I recall at that time she liked a song named "A Horse With No Name," by a group called America.
Around this time, Lee got a job at the cafeteria at MTSU, the university I attended. Sometimes I would see her at lunch time.
It was about this time that my paternal grandmother Eva Day Warmuth and my step-grandfather Oscar Warmuth died. I visited Texas for the funerals and while there applied to Tandy Corporation for a job. They gave me several offers, so when I returned to Tennessee and I decided we would move to Texas.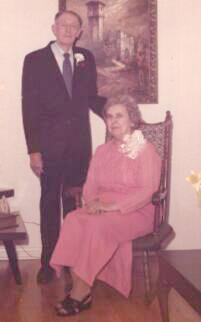 Bob & Mary Cole
50th Anniversary - March 1976
That same year, Lee's father, my grandfather, became ill. He had a leg infection that seemed not to heal. He had rarely ever been very sick and hated hospitals. He was hospitalized and it was then that they detected colon cancer. He never left the hospital from that visit and died on August 7, 1979. I had visited him at the hospital several times and he was knowledgeable of the fact that his time had come to be with God. As a matter of fact, he was a very religious man of the Baptist faith and was ready to go.
He died on a weekend while I was on a trip to Memphis. His funeral was attended by many, a few days later. My uncle, the Reverent Woodrow Medlock, officiated. Woodrow and my granddad Bob had know each other since childhood. Bob had seen many of his friends die and had always attended each ones funeral to comfort their families. At his funeral there were many many other friends there to comfort his family. I never met a person whom my grandfather did not like or whom did not like my grandfather. He never spoke bad of anyone and his philosophy was 'Take no enemies.'
So, like Lee, I had lost three grandparents in a years time period.
In 1980 I moved to Granbury, Hood County, Texas. I visited Tennessee once in 1981.
After moving to Texas, my mother and Hollis visited once or twice; driving each time, since mother had a fear of flying. I also visited Tennessee a few times to see them.
About this time Lee hired a detective to try to find her adopted daughter Marilyn Ann. She had been constantly worried and concerned about her and wanted so much to contact her or find her to be sure that she had a good life. Mother had said that she was forced to give her up during the period that mother's mental health was weak.
A funny incident I remember was one time on a visit to Tennessee over the forth of July, Hollis and I were shooting off firecrackers in the back yard of their home and a stray firecracker landed in our pile of unignited firecrackers and fireworks. The whole bunch went off and ruined one of Hollis' favorite hats. We laughed about it later, glad that no-one was hurt. At the time however, it wasn't that funny and we all ran for cover.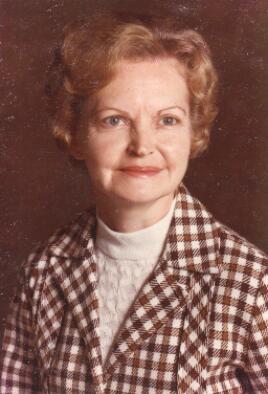 Lee age 55 in 1986
In about 1985 or 1986, Lee got the word she had been waiting for. She found her daughter Marilyn. Marilyn had been renamed Donna by her adopted parents. Donna, living in San Jose, California. She wrote her and spoke with her on the phone a few times after that.
In early 1986, I married Frances Anne Hyman. Later that year in November we had a son, Brian Alan. On March 17, 1987, Hollis died of cancer. He was 50 years old. Mother was 55 then. She started staying with her long time friend Jeane Tipper, because Lee did not like to stay home alone. Lee learned to drive and would drive Hollis' 1978 Chevy Nova.
In February of 1988, Frances and I had our second child Hayley Elyse. In March of 1989, my wife and the kids visited mother and she got to meet the new children. We also visited Lee's mother, my grandmother Mary Hill Cole, in the rest home. So the kids, ever so young, got to meet their great-grandmother for the first and only time.
Lee's mother Mary had been in the rest home for about six years with alsheimers. Later that year, Mary Irene Hill Cole, died on December 22, 1989, at the age of 83. She had lived 10 years after her husband Bob had died. Mother now only had her four brothers and their families to lean on; as her husband, mother, and father had all passed on and her children all lived away from her in Florida, Texas, and California.
In about 1990, Lee had a stroke while driving. She passed out, but luckily did not have a serious wreck. The stroke did not affect her movement too much, but it did affect her co-herent thinking abilities, her short term memory, and her ability to talk.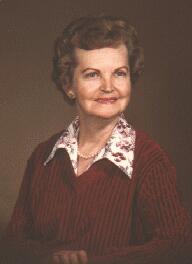 Lee at age 59
My sister Glenda and I went to Tennessee and packed up her house since she never stayed in it much anyway. Then Mother moved to Texas to live with Frances and me. Mother was difficult to handle since she would try to wander off. But since she could not remember things long term, we were concerned she would wander off and forget where she had come from.
Because my wife and I both worked and couldn't keep an eye on her all the time, my older sister Glenda in Milton Florida, decided that she could take care of her. Lee moved to Milton. Glenda found her a half-way house to live in there. There she was well cared for and attended classes to improve her memory and motor skills. Sometimes mother was happy with her new place, other times she was very discontented and wanted to move in with my sister. It was during this time that my sister met and married Phillip R. Vaccaro, a Canadian immagrant.
Mother's friends were Mormons (The Church of Jesus Christ Latter Day Saints) and so mother attended church with them.
In April of 1997, mother caught pneumonia. She was hospitalized. It was then that they discovered that she also had lung cancer. Thinking all was under control with the pneumonia, they released her, assuming more tests on the cancer diagnosis within a few days. However, she she took ill again right away. While mother was in the hospital, I made reservations to fly to Florida to visit her. I wrote her a letter telling her how much I loved her and to hold on, I'd be there in a few days.
The pneumonia and cancer together were too much for her body. Lee died in a Milton, Florida hospital on April 18, 1997, at the age of 65, with my sister Glenda by her side. She was the first of her five siblings to die. She had lived 10 years after Hollis died. A funeral service was held in Milton so her friends there could attend. I did not attend but made arrangements to fly to Tennessee instead, as we had her body transferred to Murfreesboro, Rutherford County, Tennessee for internment at Evergreen Cemetery. There was a grave-side funeral and she was buried next to her loving husband Hollis. Their grave was next to her mother and fathers' graves. Rev. Morgan Davis a church friend of hers, her neighbor when she lived on Rogers Street, conducted her funeral service.
We placed several things with her in her coffin; a letter and pictures of her daughter Donna and her children Erica and Jack. Donna could not attend and never got to meet Lee in person. Donna was deeply hurt I believe. Also we placed a teddy bear and the letter that I had sent from Texas, that mother never got to read before she died. Mother's face was covered with a veil. At the funeral were many life long friends of hers, her brothers, and her daughter Jennifer who had found out in the mid 80's that Lee was her biological mother. My fifth grade grammar school teacher and third grade Sunday School teacher attended, as well as many of my cousins, and my older sister Glenda.
Her brother Robert who had called her weekly after she moved to Florida was there and was heart broken. Also her brother Tommy attended; he was wheel-chair bound.
I deeply regret that I did not view my mother after her death. At that time, I simply could not bear it. I did not want to see her that way. I just wish now that I could have had the strength to give her a goodbye kiss, as I know she would have done that for me. However, I know that she knows my feeling and I think possibly she would have preferred that my memories of her be pleasant and living memories.
As a side note, her oldest brother Robert died on March 16, 1999. He was 72. He is buried on the other side of their parents. His wife Lorene died Feb. 21, 2006. They are survived by their children, Barbara and Dennis, and each of them have children.
Jakie, died June 3, 2005 at the age of 70. He is survived by his wife Peggy and children Tina, Dawn, and step-daughter Debbie.
Tommy died October 7, 2006 at the age of 65. Tommy was not married and did not have any children.
Her brother Aubrey passed away in 2010 at age 81. He was no longer married. I stayed in touch with Aubrey and traded and researched our family lines together. I think I saw him last in October of 2006 when we attended Tommy's funeral. Tommy died at the old home of his parents on North Church Street. Aubrey's home of 30 or more years, burnt down on September 27, 2002. He had it rebuilt. Peggy now lives in a nursing home in Murfreesboro.
Mother's tombstone has the name "Lee Opal" Spence, since many of her friends as she grew up had nick called her Lee and Leopal. She chose the spelling.
Since this was originally written, my Uncle Woodrow Medlock passed away in 2006 at the age of 93 and Aunt Ruth Templeton Cole Medlock passed away in December of 2010 at the age of 77. My cousin's Steve Cole, Lisa Cole and John Cole, three of Ruth's children, have also passed way.
I still live in Texas and I married Tina Angulo in 2007 and we have a son, Isaiah. born September 2011, and a daughter Brianna in March of 2014. My father Kenneth Allen Freeman passed away in January of 2011. Both my older children Brian and Hayley have both graduated from college. Brian lives in Fort Worth TX and Hayley in Chicago IL. Hayley is engaged. In 2013 we sold the house that I grew up in at 506 N. Church St., Murfreesboro, TN to the Huddlestons and they have remodeled it and rented it out. It is considered a historic home. This was written with LOVE to the memory of my mother, who called me her 'Sunshine' and her 'Little Al.' May she rest in peace until we meet again in Paradise.
NOTE: I originally wrote this in 2002, updated it in 2010, and again May 10, 2014.