"Little Dave": Our youngest Confederate Soldier
By Mark A. Hyde
Email: mah3522@students.kennesaw.edu
The American Civil War is full of outstanding heroes, remarkable tales, and unforgettable legends. Many people may not know, however, that a large number of these forgotten heroes were only teen-agers; some were even pre-teens. "I hadn't lost any war and wasn't hunting any, but it rather came to me through circumstances not of my ordering" David Bailey Freeman wrote in 1923 in an address to the Atlanta chapter of the United Confederate Veterans, nearly 60 years after his service in the War Between the States. David was not much different from the thousands of other young southerners enlisting in 1861 who were full of the "military spirit" except in one regard: he was barely 11 years old! Yet, he did indeed enlist, and he served 3 years in Company D of the 6th Georgia Cavalry, CSA. Known affectionately by members of his company as "Little Dave," his fellow comrades would later recall that although "he was quite young, [he] made a good soldier."
"I hadn't lost any war and wasn't hunting any..."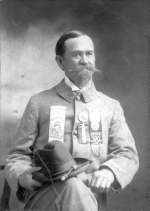 David Bailey Freeman was a member of Company D
of the 6th Georgia Calvary, CSA enlisting on May 16, 1862,
just two weeks after his eleventh birthday.
(Photo courtesy of Alan C. Freeman)
Little Dave was born here in Ellijay, Georgia on May 1, 1850, one of ten children (8 boys and 2 girls) born to Beverly Allen Freeman and Mary Ann Reynolds Murray. According to Alan Freeman, great-great-grand-nephew of David, Beverly and his family were well-to-do, quite religious, and prominent citizens in the communities they lived in. Beverly led a somewhat adventurous and interesting life. Besides serving and attaining the rank of Major in the Creek Indian War, Beverly moved to Dahlonega seeking his fortune during the Georgia gold rush, was a practicing attorney in Ellijay, and was a founding member and officer of Ellijay's Oak Bowery Masonic Lodge #81. Several of his sons later became newspaper editors including David and Beverly's youngest son, Samuel Rutherford Freeman. According to George Gordon Ward's book, The Annals of Upper Georgia Centered in Gilmer County, Samuel was editor of the Ellijay Courier in 1876. Beverly died in 1851, leaving a widow and several children ranging in ages from infant to adult. Little Dave was only 4 years old when he lost his father.
How David Bailey Freeman came to be the youngest Confederate soldier is quite a remarkable story. Four of his seven brothers eventually joined the Confederate Army; however, his brother Madison Montgomery played the most important role in David's becoming the youngest Confederate soldier. Madison was afflicted with "White Swelling," known better today as Phlebitis, an inflammation of the veins in the legs. This burdensome disease did not stop Madison's patriotic duty however. As David later wrote, Madison was "crippled from white swelling, but from having been a member of the Fulton Blues previous to the development of the disease, he possessed the military spirit. He went into his native county, Gilmer, and was the main spirit in the raising of a cavalry company, of which he was elected first lieutenant." Madison was uncertain whether he could stand the service and asked their Mother if David could go with him into camp to be of help to him if needed. Without knowing the circumstances, we can only speculate on the conversation and stipulations concerning the agreement. The end result was Mrs. Freeman's consenting to let her Little Dave go to camp with Madison with the understanding that he would be allowed to return home any time the Colonel saw fit after drilling days were over. David enlisted as a Marker on May 16, 1862, at Camp Felton near Cartersville, just two weeks after his eleventh birthday. (Markers "marked" the position of troops by carrying a pennant at either end of a long line of mounted cavalry).
Dr. David B. Parker, Professor of History at Kennesaw State University, has written several articles about "Little Dave" in various newspapers and magazines. Dr. Parker writes, "Thousands of young boys fought in the Civil War, but none was as young as David Bailey Freeman, whose claim to being the youngest soldier in the Civil War has never been refuted. And make no mistake he was a soldier. While most of the pre-teens in either army were musicians and errand boys, David was issued a musket and served as a private in the 6th Georgia Cavalry." Dr. Parker's research reveals that David served for two years under "Fighting Joe" Wheeler and was with General Joseph E. Johnston through the spring of 1864 struggling to save Atlanta. According to Dr. Parker, Freeman "witnessed the bloody fighting at Chickamauga, fought against Sherman's Campaign for Atlanta, seeing action in Resaca, Cassville, and Kennesaw Mountain with General Joseph E. Johnston."
"I attracted much attention. Some would give me
presents...and some would observe that I ought
to be at home with my mother."
Riding a "nick tailed blaze face bay pony," eleven-year-old Little Dave must have been quite a sight riding through towns of the Old South with the grown men in his unit. Remembering all the Confederate flag-waving ladies and children of these small towns, he later recalled that "By the diminutive size of myself and my steed I attracted much attention. Some would give me presents, such as home knit socks, mitts, neck scarves and comforters, and some would observe that I ought to be at home with my mother." Again, we can only speculate as to how much fighting Freeman actually engaged in as his duties and responsibilities increased or the cruelties and suffering of war of which he must have witnessed and experienced. In his later writings, he relates many interesting stories concerning his service such as his pony being stolen, dramatic battle scene descriptions, and his sickness from exposure in which his "feet cracked open and ran blood."
David was recuperating from an illness in an aunt's home in Fayetteville when General Johnston's army surrendered on April 26, 1865, less than a week before his fourteenth birthday. But no matter what contributions David made to the Southern cause, it was enough to earn him a Confederate pension after making application in 1917.
Little Dave's post-war career was as exciting and eventful as his youthful service in the war. The Gilmer County Census records of 1860 show him as living with his widowed seamstress mother and other young siblings and going to school the year before his enlistment, but the family does not appear in the 1870 census. Details of his life are somewhat sketchy after the war, but after reaching adulthood evidence reveals that David began a successful life-long career in the newspaper business. Living and working in Calhoun, Cedartown, and Cartersville, Georgia, Freeman eventually owned and edited newspapers in all three communities. Not only was he active in the United Confederate Veterans organization where he eventually earned the rank of "General," he was also involved in local politics, and was even elected mayor of all three towns, reflecting on his character and the respect people of the communities must have had for him. David married Callie Dudley Goodwyne of Calhoun in 1875 and had three sons. Their eventual move to Cartersville proved one of their most important as this was where they built a beautiful Victorian home on Erwin Street in 1890, and where they lived most of their golden years together. Callie died in Atlanta in 1922 and was buried at Cartersville.
Professor Jay S. Hoar, author and retired professor from the University of Maine at Farmington, has devoted over 35 years of research concerning the service of young boys (and girls) of the Civil War. In his book, Callow, Brave, and True: A Gospel of Civil War Youth, Professor Hoar chronicles the lives of dozens of Union and Confederate personalities in a national study and collective biography of these outstanding youth. In his forthcoming sequel tentatively entitled Our Youngest Blue and Gray: Civil War Soldier Boys, David Bailey Freeman will be included in one of Hoar's 75 biographies. Professor Hoar stresses that "Private Freeman, understandably, believed himself 'the youngest Confederate Soldier.' Nearly all who were later born or younger than he were either home guardsmen or non-enlistees. It does indeed appear, after my 35 years of research in these matters, that David Bailey Freeman was precisely what he believed he was—the youngest enlisted soldier of all our Boys in Gray."
"David Bailey Freeman was precisely what he believed he was--the youngest enlisted soldier of all our Boys in Gray."
David spent the rest of his life as an active member of the UCV, attending reunions, and as a strong advocate in the state legislature working to increase the modest pensions of his fellow veterans in Gray. He died quietly and peacefully of a heart attack in Atlanta on June 18, 1929, just a few days after attending a UCV reunion in North Carolina. He was 77 years old. His body was transported by train from Atlanta to Cartersville where he was laid to rest next to his beloved wife Callie, and Mrs. A.B. Cunyus sang "When the Roll is Called up Yonder" at his funeral.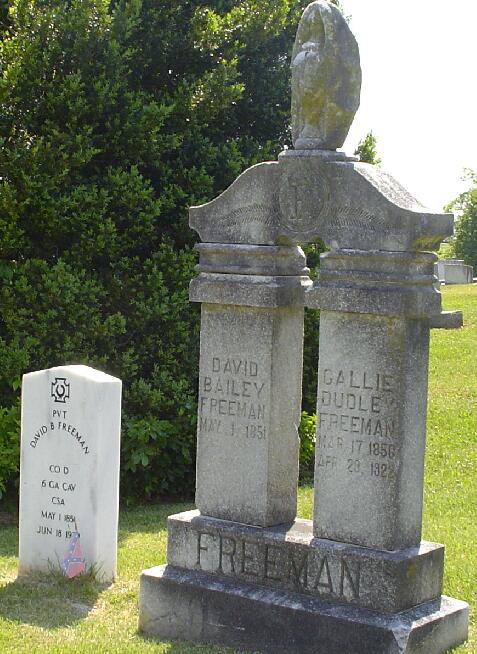 Oak Hill Cemetery: Little Dave's final resting place in Cartersville, Georgia. (Photo by Mark A. Hyde)
The Freeman's evidently loved Cartersville, and according to great-great grand nephew, Alan, the town has adopted Little Dave as their pioneer son. "I never regarded as of much importance what some have been liberal enough to regard as a distinction, that of being the youngest Confederate soldier," Freeman confessed in a 1923 personal war experiences address, "[this is] a claim I feel safe in saying with due modesty but with candor I have established without any question."
Alan Freeman remarked that his family takes great pride in knowing that their ancestors were full of military spirit as well as the spirit of the new country. Little Dave certainly seemed to possess this spirit. His service to a cause he believed in and his unique enlistment circumstances makes him an important historical figure in his connection to Ellijay and north Georgia history and folklore. His story should not be forgotten.